England vs Croatia Betting Tips and predictions
England vs Croatia Betting Tips and Predictions
England have been in pretty good form over the last couple of years, indeed, over their last 23 games since the start of 2019 they've only lost a total of four games. Sure, they've been lacklustre at times and many of the games have been a tough watch and well, boring, let's be honest, the fact of the matter is that it's, to use the old cliche, a results game and Gareth Southgate's England have been getting them.
They've won all six of their six most previous matches and most impressively of all they only conceded one goal over those six games. Croatia's form hasn't been nearly as good, of their last 13 games they've actually lost a total of seven and only won four. Of their last five game they've won two, drawn one and lost two and really with that kind of form you'd expect England to do the business here. However, we should remember that there's been a bit of needle between these sides over the years, Croatia were the first side to beat England at the revamped Wembley back in the 90s and, of course, at the World Cup in Russia a lake Mario Mandzukic goal dumped England out of the semifinal for Croatia to advance to the final against France.
England vs Croatia Betting Tips and Predictions: Goals
Over their last five meetings in all competitions, Over 2.5 goals has been seen in three of them, four if we count Extra Time. England's goal-scoring form isn't the best it must be said. They put two goals past both Poland and Albania lately but against Austria and Romania could only score one goal in each match over the 90 minutes. Of course, they did smash five in past San Marino back in March but it's San Marino isn't it?
Croatia have only scored five goals over their last five matches and in fact, they failed to score in two of those five games. On paper this match isn't exactly screaming goals but their historical record just cannot be easily dismissed and this being the opening game of the tournament neither side will want to come out of it with a negative outcome. We should mention too that over nine meetings so far, six have seen Over 2.5 goals (seven if we could that semifinal from Russia) and we just can't shake the gut feeling that we could see a few here. England are hot favourites but Croatia have some great players all over the pitch and if Zlatko Dalic has been fingered out how to get his team back to the form that saw them reach the final in Russia in 2018 they could well cause an upset here.
England vs Croatia Betting Tips and Predictions: Goals Scorers and Player to Watch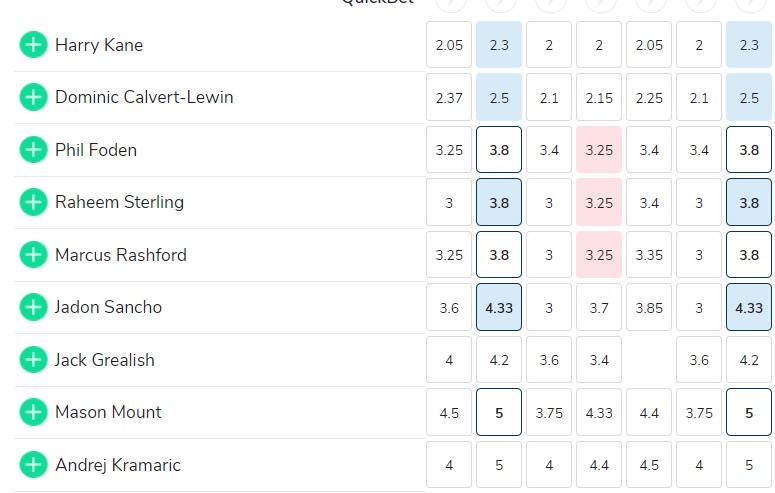 As you can see here the bookies have really heavily going with England's players here. There are eight England players priced before any Croatian players are mentioned. That really should be sounding some alarm bells for you. Seeing the likes of Phil Foden, nine Premier League goals all season and Mason Mount, six PL goals, ahead of Hoffenheim's Andrej Kramaria, with 20 league goals this season shows you the bias of the bookies here so be wary and always keep in mind that the bookies will manipulate markets to get people to part with their money rather than give them a bet that has actual value.
Saying all that, Harry Kane is a magnificent player, he's one of the best in the world at what he does. Odds of over Evens aren't bad, he netted 23 PL goals over his 35 league games for Spurs this season but he's only scored two in his last nine for England though