West Ham vs Everton Betting Tips and Predictions
West Ham vs Everton Betting Tips and Predictions

West Ham's form has seen them winning three of their last five Premier League matches, losing the other two. At home they've also won three of their last five, drawing and losing one apiece. Everton have only won one of their last five in the PL, drawing and losing one as well. Away from Goodison Park they've won three, lost one and drawn one. The bookies have West Ham as the favourites here thanks to their better form of late but they've not been bet into odds on prices as of yet and, indeed, they're unlikely to go below Evens (2.0) before kickoff on Sunday afternoon.
West Ham vs Everton Betting Tips and Predictions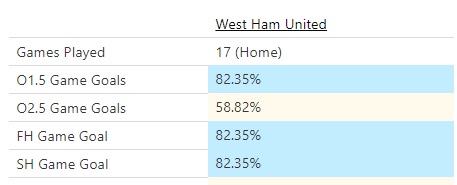 The Bet Dynamo Insights Page isn't showing a great amount of value at first glance but we can see from West Ham's goals stats that there's been plenty of action this season at the Olympic Stadium. We can see there's been plenty of First Half and Second Half goals and if we could this with another important stat:

With both teams only having failed to score in just 12% and 19% of their respective home/away games we should be in for goals here. We have a few ways to exploit this fact. We can either Lay the Halftime Draw and cash out when a goal is scored, or Lay the HT 0-0 scoreline or hold on until Halftime and then Lay the Draw for the remainder of the match until a goal is scored. Indeed, you can even Lay the Draw from kickoff if the price is right for you. This really comes down to the type of football bettor you are and there are multiple ways to exploit such stats.
West Ham vs Everton Betting Tips and Predictions

West Ham have scored a total of 13 goals over their six most recent home games and are averaging 1.71 per home Premier League games. Everton's scoring record of 1.38 looks decent but we should be cautious here, the Toffees have only scored four goals over their last five away games and have only scored five over their last five home/away games. With those stats, this looks like it should be a home win for David Moyes' Hammers over the club where he made his name.